This year we are very excited to be able to host our Cream Teas at the Barn again.  
It's National Cream Tea Day AND near a particularly significant week for us – Learning Disabilities Awareness Week. We can't think of a better way to raise awareness of the wonderful people that we work with at the Life Project. The many of you who have attended past cream teas have fed back how much you enjoy the lovely atmosphere and location.  This year we have a booking system where you can book a ticket for £5 per person (with £0.98 booking fee).  The time slots available are:
2.00pm to 2.45pm
3.00pm to 3.45pm
4.00pm to 4.45pm
– To order your ticket please click here. (Please note the deadline for tickets sales is Mon 21 June at 7pm).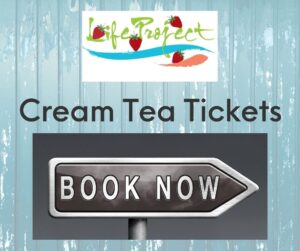 – Directions to the Barn, Englishcombe Village can be found here.
It will also be a great opportunity to meet our new CEO, Rich Blake-Lobb, who will be at the event.  He takes up this new position at the beginning of June.
If you are unable to come to the Barn this year we'd love you to host a cream tea with friends and donate your 'cream tea cost', or more, to the Life Project Localgiving Appeal page.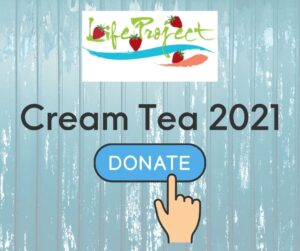 If you would like send further information to family and friends please feel free to use this Cream tea Poster 2021 pdf below.