Thinking about running the Bath Half in 2022?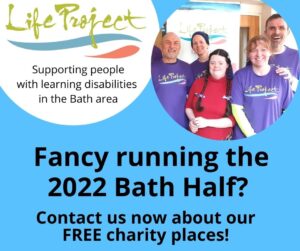 Ever fancied running the Bath Half?  Want a challenge? Would you like to help raise money for a local Bath based charity? Our free charity places are available now.
The Bath Half is an important part of our charity's fundraising campaign and this year our target is £10,000 (or more!).  This will help us to continue and develop our projects for those with learning disabilities in and around Bath.
We ask our runners to commit to raising £500, as a minimum, for our charity and to set up a fundraising page (linked to our Life Project Local Giving page).  In return we:
give you access to our WhatsApp running group enabling you to be part of our team (last year, runners found this an invaluable support during their training helping them to feel part of a community and not isolated during their training journey)
give you a free Life Project t-shirt for the race day
invite you to our pre-race day event where you will have a chance to meet other members of TeamLP (this is usually held on a Saturday two weeks before the Bath Half).
For more further information call Dinah on 07708 217901 or e-mail info@lifeprojectbath.org.uk.
Read about Dan's run with TeamLP in March 2020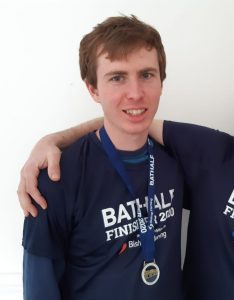 Dan is on the autistic spectrum and has learning difficulties.   He ran the Bath Half for the Life Project and raised an enormous amount of money for us.  He had quite a year in 2000 where he:
– started at the Paralympic Development Academy at Loughborough University National Performance Institute in January
– completed the Bath Half in a magnificent running a time of 1 hour 22 minutes 17 seconds
– was awarded the Men's Disability Annual award for 2019, by Surrey County Athletic Association.
But what made Dan's Bath Half story extra special for us was the amazing treatment Dan received from the medical services on the day.  They spotted Dan, after he had finished the race, shivering as he waited for his family and did a brilliant job, taking him in and looking after him so well with a sugary tea and two fleece blankets to warm up!   We are thankful to all involved for their timely and amazing support to Dan and for sensitively meeting his autistic and learning difficulty needs.  We wish you all the best, Dan, in your future athletic endeavours.
Here's a look at our Bath Half journey so far…