Wow, what a fantastic time we had at our Virtual Cream Teas.  We would like to say an enormous THANK YOU to everyone involved and to those who gave so generously enabling us raise an amazing £4,000 – exceeding our target by £1,500!   We had lots of people watch our promotional video, don't worry if you missed it click here.
Here's what people shared with us about their cream teas
"Here is a photo of us in Cornwall enjoying home-made scones, home-made strawberries grown in our garden, topped with fabulous Rodda's Cornish clotted cream. We washed it down with home-made elderflower champagne.  We hope the fundraiser was successful and thank you for the opportunity to enjoy something special."
"Had our first cream tea – thank you for the recipe- delicious 😋"
"Well done! The YouTube video was absolutely lovely! My family loved it too. Very informative, moving and uplifting."
"Please see attached our photo for the competition. We had a wonderful afternoon. We really enjoyed the cream tea and thought the recipe Amanda shared for the scones was the best ever. Everyone said how delicious they were!  I hope you raised lots of money from this fundraiser. We were pleased to be able to support you."
"I really enjoyed your YouTube video with so many lovely and familiar faces. What a gorgeous event!  I look forward to seeing you all next year in the Barn for the Makers' Cream Tea. By the way, I almost went to the Ritz but the Lanchester garden won."
Prize winners
Furthest postcode from BA1
The Heavenly Hedgerows jams went to our supporters in Lanchester, Co. Durham.  We had people enter this competition but Lanchester – 300 miles from BA1 – was the furthest.   Well done – another excuse for a cream tea when you receive your jams😊.
Best Cream Tea photo
The Taylors won the Roddas' 'Best cream tea photo competition' as judged by our Makers.  We had 20 super entries – thanks to everyone who sent in their photos.  Ruth and Paul had a lovely cream tea in their garden as well as zooming with their daughter in Angelsey and son in Patagonia (who were also having cream teas too).  Mowgli the dog waited patiently for some cream tea but to no avail😊.   Well done everyone for taking part so brilliantly!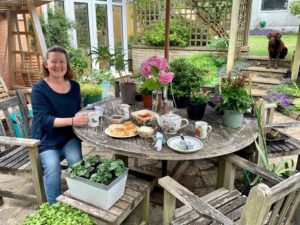 Here's photo collage video.  We are sure you will agree – the Makers had a difficult decision.